**PLEASE CALL FOR AVALIBILITY, ITEM MAY DROP SHIP**
The Ai 2nd Gen -40°C/F T40 cold traps now all ETL certified. They have a much smaller footprint, but at the same time, offering you the same cooling power, 1.5X reservoir and 1.6X trap capacity. New upward hose barb ports provide you safer and easier vacuum tubing connection and removal.
In vacuum applications, a cold trap is a device that condenses all vapors except the permanent gases into a liquid or solid. The most common objective is to prevent vapors being evacuated from an experiment from entering a vacuum pump where they would condense and contaminate it. Particularly large cold traps are necessary when removing large amounts of liquid as in freeze drying.

Pumps that use oil either as their working fluid (diffusion pumps), or as their lubricant (mechanical rotary pumps), are often the sources of contamination in vacuum systems. Placing a cold trap at the mouth of such a pump greatly lowers the risk that oil vapors will back stream into the cavity.

Care should be taken when using a cold trap not to condense liquid oxygen (a light blue liquid) into the cold trap. Liquid oxygen is potentially explosive, and this is especially true if the trap has been used to trap solvent. Liquid oxygen can be condensed into a cold trap if a pump has sucked air through the trap when the trap is very cold.

Ai UL/CSA certified T40-UL -40°C/°F cold trap features
ETL tested to UL and CSA standards
• 1.5X more reservoir and 1.6X more trap capacity compare to its predecessor
• No dry ice or liquid nitrogen needed
• All steel housing for durability
• Small footprint, built-in swivel casters for mobility
• Plug and play, 110-120Volt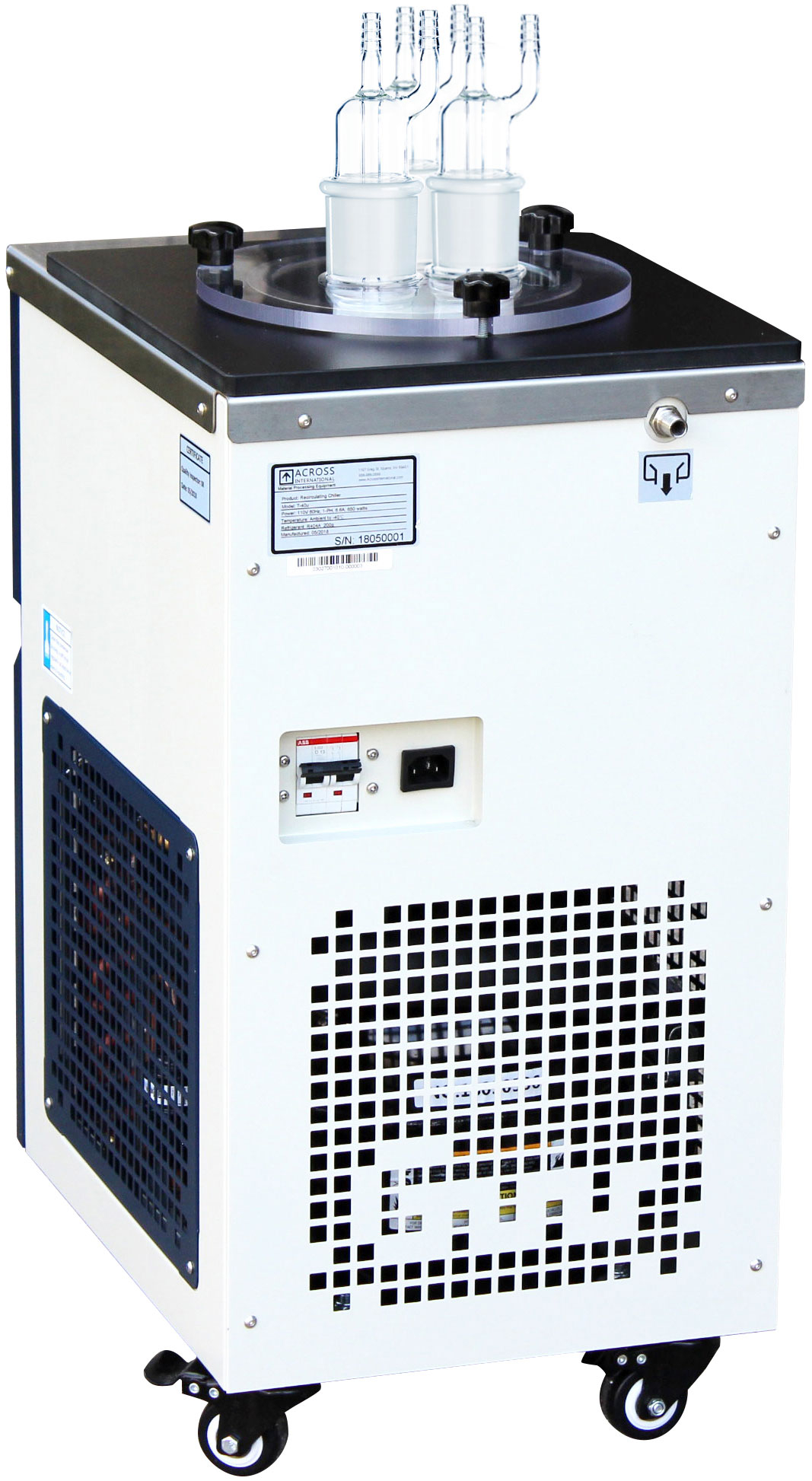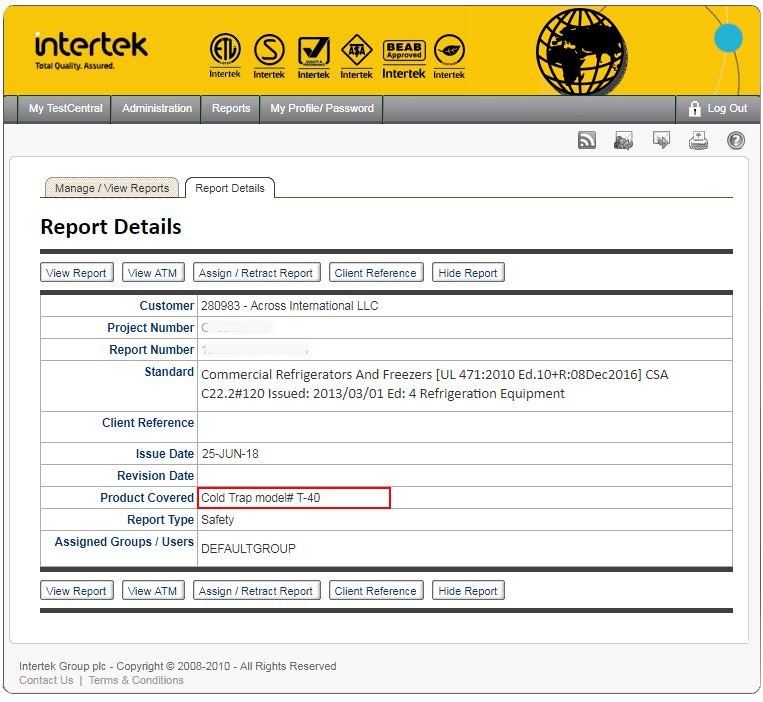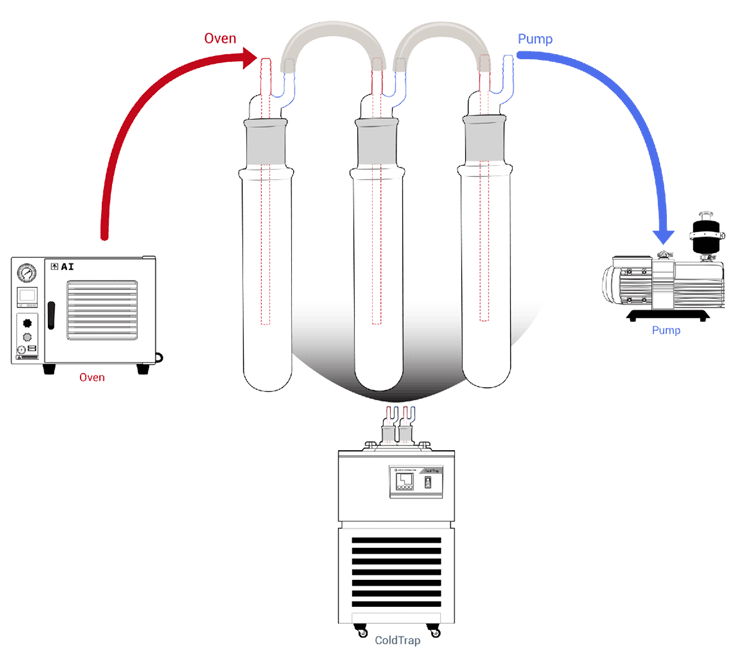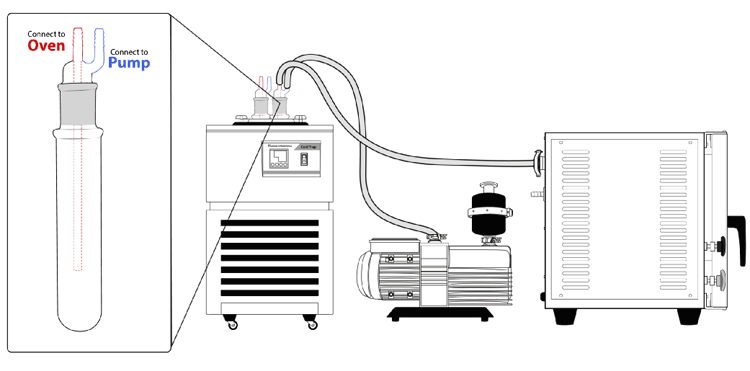 SPECIFICATIONS

Model

T40-UL

Electrical requirements

110V, 60Hz 1-PH

Compressor

Make: Embraco

Refrigerant: R404A (220g)

Cooling capacity:

@ -10°C: 300W

@ -20°C: 250W

@ -30°C: 150W

@ -40°C: 50W

Reservoir

Volume

1.3 gallon (5 liters)

Dimensions

Diameter 6 1/4 inches

Depth: 9 1/2 inches

Temperature

-40°C (-40°F)

Display: digital

Unit: °C

Sensor: Pt100

Finish

Exterior: powder coated steel

Interior: polished type 304 stainless steel

Trap

Material: high borosilicate glass 3.3

Volume: 500ml

Diameter: 2 inches

Depth: 11 1/2 inches

Quantity: three

Vacuum level: lower than 500 Micron

Vacuum connection

3/8" hose barb

Recommended coolant

50% Ethylene glycol + 50% purified water

Unit/shipping weight

100lbs / 140lbs

Unit/shipping dimensions

13 x 18 x 26" / 18 x 23 x 38" (WxDxH)

Compliance

UL 471:2010 Ed.10+R:08Dec2016

CSA C22.2#120 Issued: 2013/03/01 Ed: 4 Refrigeration Equipment

Warranty

One year
Standard Package

Part Description

Quantity

Part Image

Ai T40-UL -40°C/°F cold trap

1 pc

Glass trap with upward connection ports

3 pcs

3/8" silicone vacuum tubing

10ft

Radiator cleaning brush

1 pc

3/8" hose barb to KF25 flange adapter

2 pcs

KF25 quick clamp and centering ring

2 sets

User's manual

1 pc
For Technical Support, Questions, or Other Issues Please Email or Call Us!
Model:
T40-UL
MPN:
T40-UL
Brand:
Across International
Power Requirements:
110-120V 50-60Hz 15A Single Phase
Terms and Conditions
Limited Product Warranty
Our Products are warranted to be free from defects in materials or workmanship and to comply with their technical specifications for one year from the date of purchase (original invoice date) ("Warranty Period"). Within this period, we will, at our sole option, repair or replace any Product or components that fail in normal use. Such repair or replacement will be made at no charge to you for parts or shipping upon our verification of Product non-compliance or defect. Return of Product is subject to our Return Policy.
Note: This warranty does not cover failures due to abuse, misuse, abnormal stress, or environmental conditions or use contrary to our instructions, accident, unauthorized alteration, installation, handling or repairs or consumable products such as (but not limited to) grinding media, quartz and alumina tubes, crucibles, heating elements, and thermocouples and Product non-conformity or defect reported to us outside the Warranty Period. Some items have additional warranty available for purchase. Please contact us at (888) 988-0899 or info@acrossinternational.com for more information.
EXCEPT FOR THE EXPRESS WARRANTIES DESCRIBED IN SECTION, WE AND ANYONE ACTING ON OUR BEHALF HAS MADE OR MAKES ANY OTHER WARRANTIES, EXPRESS OR IMPLIED, CONCERNING THE PRODUCT(S) AND WE OTHERWISE SELL THE PRODUCT "AS IS." WE EXPRESSLY EXCLUDES AND DISCLAIMS ALL IMPLIED WARRANTIES, INCLUDING, WITHOUT LIMITATION, THE IMPLIED WARRANTY OF MERCHANTABILITY, THE IMPLIED WARRANTY OF FITNESS FOR A PARTICULAR PURPOSE, AND THE IMPLIED WARRANTY OF TITLE AND NON-INFRINGEMENT, WHETHER ARISING BY LAW, COURSE OF TRADE, COURSE OF PERFORMANCE, USAGE OF TRADE OR OTHERWISE. YOU ACKNOWLEDGE THAT YOU HAVE NOT RELIED ON ANY REPRESENTATION OR WARRANTY MADE BY US, OR ANY OTHER PERSON ACTING ON OUR BEHALF, EXCEPT AS SPECIFICALLY DESCRIBED IN THIS SECTION OF THESE TERMS.